ThatKazGuy
Element-Switch Pills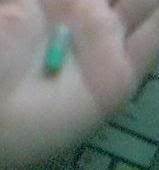 Agent ███ holding a sample extracted from SCP-XXX-52
Item #: SCP-XXX
Object Class: Safe (1-83 excluding 43 and 61), Euclid (84-121 and 43 and 61)
Special Containment Procedures: SCP-XXX-1 through SCP-XXX-83 excluding SCP-XXX-43 and SCP-XXX-61 (known collectively as Group A) are to be kept in a standard large storage container, with two locks. Access to one key is enabled by Level 2 and higher personnel, the second is only reachable by Level 3 or higher to prevent accidental abuse.
Information as to the location of SCP-XXX-84 through SCP-XXX-121, and SCP-XXX-43 and SCP-XXX-61 (known collectively as Group B) is only accessible to Level 4 or higher. Class B amnesiac must be given when business regarding Group B is complete. Each capsule in Group B must have its own containment cell, with individual keys. The containment site has 1.5 meter-thick walls of lead.
All bottles, whether Group A or Group B, must have their numbers indicated. Labels cannot be placed on the bottles.
Description: SCP-XXX is a group of traditional pill bottles, label [DATA EXPUNGED]. The bottles are visually identical, and if one is damage, labeled, or otherwise altered, it will revert to the usual form in █ seconds. If any of the containers becomes empty, one capsule pill will appear inside of it. The pill will be two different colors, but the coloration is always the same for each bottle. For example, SCP-XXX-2 always forms ███ and ██████ samples.
Colors observed are red, transparent, orange, blue, green, white, black, violet, yellow, gray, and [REDACTED].
When one pill is ingested, no ill effects are observed. When a second pill is ingested, however, an unknown procedure instantaneously converts all atoms of one element in the user's body to that of another, determined by the colors of the pills. This appears to be based on a base-11 counting system, using colors as digits as described below:
[DATA TABLE EXPUNGED]
Which colors are chosen for which digit in the base-11 number cannot be determined visually. For this reason, it must be recorded which of the bottles the pill came from. The number corresponding to the pill refers to the atomic number of its element. SCP-XXX-1 and SCP-XXX-11 will both produce red and [REDACTED] pills, visually identical, but the subject of SCP-XXX-1 is always hydrogen, and SCP-XXX-11 is always sodium.
When replacement occurs, electric charge and chemical bonds are preserved. This does not prevent reactions from occurring due to the replacement, and thus the new molecules are usually highly unstable.
Addendum: Do not expose SCP-191 to SCP-XXX, as many combinations that are benign to humans may damage her mechanics.